Internationale Trends: Ipsos Update September 2018
18. Sep 2018 • News • Ipsos Austria • Marktforschung • Branchenübergreifend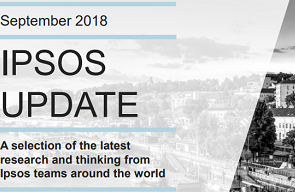 Die September Ausgabe von Ipsos Update bietet eine Zusammenfassung der neuesten Forschungsergebnisse von Ipsos Teams auf der ganzen Welt, die für mehr als einen Markt relevant sind. Ipsos Update präsentiert "Best of Ipsos" in einem ansprechenden Format.
---
Die Inhalte von Ipsos Update September 2018
What worries the world
Our latest 28-country What Worries the World study finds that over half (58%) of citizens feel their country is on the wrong track.
Mystery shopping in the luxury industry
In this paper, three experienced mystery shopping experts share their knowledge and advice when it comes to mystery shopping in the luxury industry.
Affluental travel
With the affluent increasingly searching for unique experiences, rather than growing their material possessions, the luxury travel market is booming.
Serbia under a magnifying glass
​This report provides an overview of current economic and demographic trends in Serbia, including a focus on shopping habits, advertising, and digital consumption. Public opinion on key geopolitical issues, and how these compare with the rest of the world, are also included.
Women and water: a ripple effect
In this two-part paper, we investigate the gendered impacts of water programmes.
In-app advertising
A new report investigating the potential of mobile apps and websites as an effective advertising channel.
Connected health
At a time when millions of people increasingly use digital technologies to track their health, the subsequent rise in the availability of datais transforming healthcare.
French fractures
This report is the result of the 6th wave of French Fractures, an annual study exploring the values, perceptions, and state of mind of the French population.
Sex lives of young people
As part of our studies on misperceptions, we asked people in Britain and the US to guess how often those aged 18-29 in their country have sex. Findings show both countries think their young people are much more sexually active than the reality.
Chinese International Travel Monitor
The seventh edition of the Hotels.com™ Chinese International Travel Monitor takes a comprehensive look at the impact on global travel by mainland Chinese travellers.